** basics **
Name:: Kerry, aka K-Dawg, aka The artist formerly known as Deez Nutz, aka Ker-bear
Nickname:: oh, I thought...sorry
Location:: T.Dot, Canada
Gender:: I identify as an anthropomorphic pile of carbon and turds
Birthplace:: London, Canada
Birthstone:: wtf? oh ya, diamond
Birthday:: April 29, 89
Sign:: Taurus
Righty or Lefty:: right
Screenname:: for what?
** your looks **
Height:: 6'2"
Weight:: 155 lbs I think
Shoe size:: 10
Hair Color:: dark brown
Hair Length:: long enough, god, it's not a competition, anyway most vaginas are...I mean...whatever
Eye Color:: brown
Size:: of what
Glasses:: nop
Braces:: used to
Piercings:: will be getting a lip ring, other than that just my foreskin
Tattoos:: getting one this summer
** fashion **
Where do you shop:: internet
What do you usually wear:: clothes from grade 9
What kind of shoes do you wear:: old sneakers
Do you wear a watch:: swatch bitches
Color you never wear:: mirrors
Color you wear at least once a week:: um, red?
Something you wear everyday:: clean socks
Do you wear make up everyday:: nah
Make up essential:: dick powder
Most cherished piece of clothing:: dick sock
You wouldn't be caught dead wearing:: dick thong
Do you wear belts:: dick belts, I mean yes
Do you wear hats:: ya
How many pairs of shoes do you have:: 1
** music **
Favorite kind of music:: punkaroos
Least Favorite:: poparoos
How many CD's do you have:: around 250-300, then I found the internet
Last CD you bought:: propagandhi's "supporting caste", haha that was more than a year ago
Whats in your CD player right now:: chumbawamba
Do you download music:: der
** Favorites **
Color:: red
Number:: 5
Season:: fall
Ice cream:: butterscotch
Website:: 4chan
Quote:: "First of all, life sucks. Allright? Period. Done deal. Ya got it? There's your lesson. Go enjoy it." -Coach McGuirk, Home Movies
Store:: great canadian bagel
Band:: against me!
Singer:: tom gabel
Rapper:: dan le sac vs. scroobius pip
Group:: of what, boobies?
Song:: The Disco Before the Breakdown - Against Me!
Movie:: fight club
Actor:: brad pitt
Actress:: natalie portman
Kind of movies:: explosions guns boom boom
Place to be:: gone (intoxicated)
Time of day:: 10 pm
Clothing Brand:: No Sweat
Animal:: hedgehogs
Food:: cereal
Holiday:: national blow up parliament day
Shape:: wat...circles?
Restaraunt:: random veggie places
Fast food place:: harveys
Boy's name:: Bagofdicks
Girl's name:: Bagofqueef
Word:: the
Month:: december
Candy:: reeses
** love and relationships **
Sexual Preference:: va-jay-jay
Boyfriend or Girlfriend:: the second one
Crush:: skulls
Do you believe in love at first sight:: I believe in love at first titty
What do you look for in a guy/girl:: tittays
Best physical feature:: tittays
Best hair color:: tittays
Best eye color:: tittays
** randoms **
Do you paint your nails:: no
What color is your tooth brush:: orange
What's on your desktop:: someone throwing a molotov at a bunch of riot police
Do you like roller coasters:: fuck ya
Do you do drugs:: some
Are you a virgin:: nope
Do you have any pets:: used to have a dog...*baw*
What time do you go to sleep:: like 4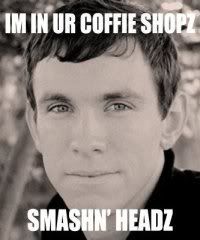 > And i do follow Anarchism. If i could, I would go to Canada